Free Bookkeeping School
You don't have to pay a fortune to get an education!
What's This Site About ?
Sources for getting a free bookkeeping education.
Are the Accounting Courses Really Free ?
Free means Free.
No tution or fees are required !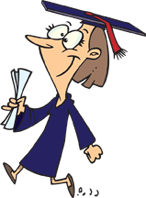 Is Bookkeeping For You ?
First
,
are you a good fit for an accounting job ?
Those working in the accounting field should possess the following traits:
Honesty

Like Working With Numbers

Detail Oriented but still able to see the Big Picture

Able to Communicate Written and Orally

Think Logically

Ability to Work Independently

Ability to Manage Time and Meet Deadlines

Self Motivated

Organized

A big misconception is that many people think that all accountants and bookkeepers do the same thing and perform the same tasks. The truth is that the field of accounting is a diverse profession and has many areas and specialized fields. Click for more information about bookkeeping careers.
Who Benefits From These Courses ?

So exactly who can benefit ? Anyone wanting to learn bookkeeping, get a free diploma, and have the credentials necessary for obtaining a decent paying bookkeeping job. Yes you can teach an "ole dog" new tricks.

Free Accounting and Bookkeeping Training

"The Harvard Business School doesn't teach entry-level accounting anymore. This online accounting course is just so good that Harvard students use it instead. When outstanding becomes so easily available, average is over."
Clayton Christensen, Harvard Professor
Has some pretty good exposure and some top endorsements, so it might be worth checking out.
50,000+ users have completed these lessons with rave reviews.
Topics covered include accounting and bookkeeping terms, the accounting equation, double entry bookkeeping, debits and credits, business transactions, general ledger and journals, financial statements, and more. My Main Bookkeeping Training Site, Bean Counter, also provides additional bookkeeping courses, tests, and games.
Subscribe to or View My Additional YouTube Accounting Videos

What Do You Know About

Accounting Terminology ?



What's an asset ? What's a liability ? What's equity ? What's revenue ? What's an expense ? What's a balance sheet ? What's an income statement ?
Additional Free Accounting Help

I've tried to provide you with a site that provides you with links to some excellent free accounting and bookkeeping training.
Nowadays, you must know how to properly utilize accounting and bookkeeping software ! The time is already here, or at least near, where using a maual bookkeeping system will be obsolete. You still; however, need to know the basics of the manual system to properly understand and use accounting software. While there are now many accounting and bookkeeping applications (onlne and dektop versions), since Quickbooks is one of the popular packages a working knowledge of this accounting software would be beneficial.
Microsoft Training provided by Alison
Microsoft Excel 2010 is one of the most popular software applications worldwide. This free online course provided by Alison will give you a thorough knowledge and understanding of Excel and its applications. Requires free registering for the course.
Learn the basics of Excel, the very basics of bookkeeping, and how you can do simple and basic bookkeeping in Excel.
Accounting & Bookkeeping Skills Testing
See what you know about accounting and bookkeeping with these skills tests and quizzes.
Test your accounting and bookkeeping knowledge.
Free Accounting & Bookkeeping Textbooks

Reinforce your learning experience by utilizing free textbooks.
Useful Accounting and Business Products & Services

Keep your business going in the right direction ! Take a moment and check if any of these services or products might help solve any of your problems.
Free Stuff

I don't want you leaving my site empty handed ! Free Stuff
Contact Me

Acknowledgements
Cartoons on this site provided by Ron Leishman. All Toon images are copyright © . No images may be resold or redistributed without prior written permission from Ron Leishman. If you enjoyed them, get some of your own Toon-A-Day.
Disclaimer & Site Policies

Disclaimer
The information provided on this site is not intended to provide or be a substitute for specific individualized accounting, tax, legal, business, or investment planning advice. Where specific advice is necessary or appropriate, Bean Counter recommends consultation with a qualified tax advisor, CPA, Financial Planner or Investment Manager. The information provided herein is for general informational purposes only and should not be considered an individualized recommendation, personalized investment advice or an endorsement by Bean Counter. The information presented is obtained from what are considered reliable sources; however, its accuracy, completeness or reliability cannot be guaranteed and therefore should not be relied upon as such. Bean Counter accepts no liability for any direct or consequential loss arising from any use of this information.
Bean Counter and their affiliated parties make no representation regarding sites that you might access from this site and are not liable for any damages that you incur from their use.
Privacy Policy
Compensation Policy